The unique old downtown neighborhood of Asakusa is one of Tokyo's most memorable and exciting areas. It offers unrivaled insight into traditional Japanese culture, with lots to see and do for all ages.
Start by exploring Sensoji Temple – the oldest temple in this bustling metropolis. Take your time to gaze at its beautiful five-story pagoda, then stroll down Nakamise Street – known as Asakusa's shopping street full of interesting souvenirs.
For a unique view over town visit Tokyo Skytree or if you're up for adventure catch a rickshaw ride through the backstreets! In addition, there are many museums such as Edo Shitamachi Traditional Craft Museum which showcase artifacts from centuries gone by; plus Ueno Park boasts stunning gardens and tranquil spaces surrounded by art galleries and temples too.
To experience real-life local activities find yourself at Kappabashi Dogugai Shopping District where restaurants serve dishes made entirely without meat or fish. Finish off your day by sampling some delicious Okonomiyaki pancakes from Monjayaki Centre before heading home after hours spent discovering what makes Asakusa so special.
Sensō-ji
Sensō-ji is one of the most iconic Buddhist temples in Japan.
Built over 1400 years ago, this Tokyo temple has become a symbol of traditional Japanese culture and art for both visitors and locals alike.
Its grand gate—known as the Thunder Gate—features bright red paper lanterns hanging from its roof that sway gracefully with each gust of wind, creating an almost mystical sight to behold.
Inside Sensō-ji there are numerous statues, shrines, and religious paraphernalia where people come to pray or simply admire their beauty.
Additionally, you can take part in various cultural activities like writing your wishes on colorful wooden plaques known as ema, which hang around many parts of the temple grounds – making it an even more unique experience.
Tokyo Skytree
Tokyo Skytree is a marvel of modern engineering and the tallest tower in Japan.
Standing at 634 meters high, this amazing structure looks like something out of a science fiction movie.
Not only does it offer stunning views from its two observation decks but also provides plenty to do for visitors.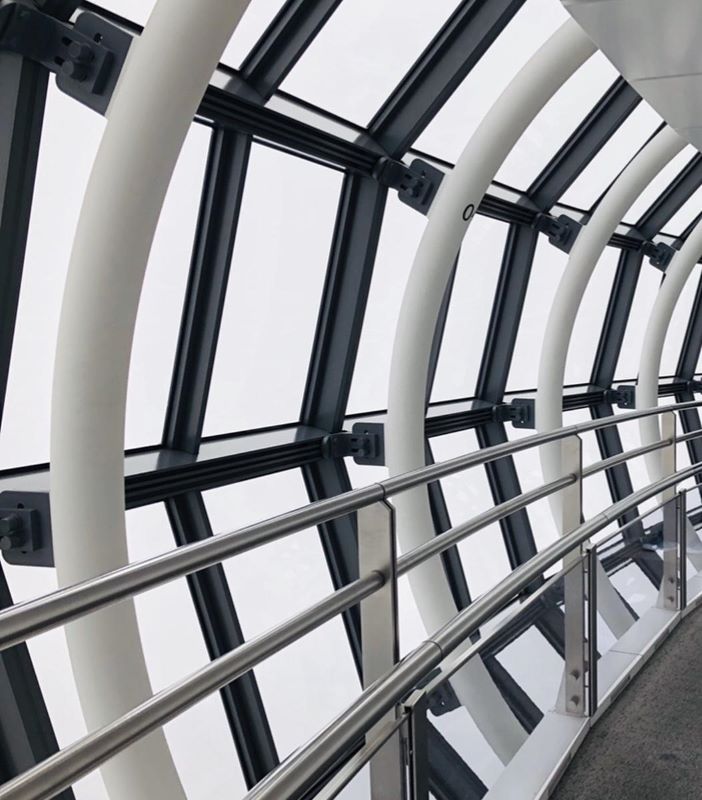 You can dine on traditional Japanese cuisine or take souvenir photos with one of Tokyo's most iconic landmarks as your backdrop.
If you want an even greater challenge then why not try conquering the 350 stairs leading up to the peak? The effort will be rewarded by breathtaking panoramic views across all 23 wards that make up Tokyo – making any trip worthwhile.
Nakamise-Dori Street
Nakamise-dori Street is a popular shopping street in Tokyo's Asakusa district.
It stretches for about 250 meters and contains over 50 shops offering traditional Japanese souvenirs such as kimonos, samurai swords, calligraphy supplies or even special spices from across Japan.
The history of the street dates back to 1688 when it was built by merchants selling goods right outside Sensoji Temple—which remains one of its many landmarks today.
Enjoy some delicious snacks like taiyaki (fish-shaped waffle with sweet fillings) while taking in the colors and atmosphere unique to this vibrant destination – you won't regret it.
Kaminarimon Gate
Kaminarimon Gate is an iconic symbol of Tokyo and the entrance to Sensoji Temple, one of Japan's oldest temples.
It features a large red paper lantern with "Thunder God" written in Japanese on it – hence its nickname 'The Thunder Gate'.
Nearby visitors can find colorful shops for souvenirs like kompeito candy or traditional wooden toys such as spinning tops and geta sandals; all tucked away under the iconic thunderclouds above the gate.
Kaminarimon offers something special during summer months when many events take place from puppet shows to terrace bars open at night and firework displays around Asakusa park that light up this historical area.
Asakusa Shrine
Asakusa Shrine, located in Tokyo's Asakusa district, is a popular tourist destination.
The shrine dates back to 645 AD and has long been an important part of the local culture.
It features traditional architecture including a series of gates leading up to the main building as well as stone lanterns lit during festivals such as New Year's or Tanabata (Star Festival).
Visitors can take part in activities such as fortune-telling with omikuji and buying charms for good luck before entering into deeper spiritual practices like purification ceremonies.
These unique experiences add charm and depth to visitors' memories while being immersed in Japan's rich history at this iconic Shrine.
Kappabashi Dougu Street
Kappabashi Dougu Street in Asakusa is a dream come true for any chef.
From dishes to restaurant supplies, this street has it all.
There are stores that feature kitchen knives and utensils crafted by traditional Japanese artisans as well as modern plastic versions.
Plus you can find unique plates, tea sets, and cutlery no matter what style of cuisine you prefer -from tempura to sushi- there's something here for everyone.
And if cooking isn't your thing, then browsing the many vivid food samples on display might just be enough incentive to create some interesting meals at home.
Suzukien Asakusa
Suzukien Asakusa is an iconic Japanese shop that's been around since the Edo era.
Located in Tokyo, it has a wide selection of products including traditional tea leaves, herbs, and spices from all over Japan as well as freshly-made confectioneries like popular rice crackers.
It also stocks kitchenware such as sushi rolling mats and bamboo spoons for making soba noodles at home.
Additionally, you can find traditional items such as scroll paintings to adorn your walls or even souvenirs for friends back home.
Asakusa Culture Tourist Information Center
The Asakusa Culture Tourist Information Center is a great place to visit if you want to get the full experience of Japan in one go.
This huge center provides both international and local visitors with lots of sightseeing tips, free maps, and brochures.
It's also home to various cultural experiences like tea ceremonies, calligraphy lessons, and lectures on traditional Japanese culture.
The multimedia library allows for easy access to information about attractions around Tokyo as well – from shrines temples, museums theaters there's something here for everyone.
Asakusa Rokuku Street
Asakusa Rokku is a historic shopping street that's been around since the Edo period.
It has plenty of vibrant shops, restaurants, and temples that make it fun to explore.
There are so many interesting things to do – from trying traditional sweets at Umezono shop, where their original "Manju" shirosugini cake is especially popular; or visiting Kappabashi-dougugai Kitamura which sells all types of kitchenware unique only to Japan like weirdly shaped chopsticks; you can even buy Japanese souvenirs such as folding fans and kimonos.
While strolling down Asakusa Rokku Street indulge in its culture and take part in some exciting activities – stop by Matsuchiyama Hanaori CarpentryWorkshop for free carpentry experience classes too.
Edo Taitō Traditional Crafts Museum
Edo Taitō Traditional Crafts Museum is a great place for anyone interested in traditional Japanese artistry.
From lacquerware to woodcraft, this museum showcases some of the best craftsmanship Japan has to offer.
Visitors can view displays such as carved wooden dolls and intricate metalwork pieces crafted by master artisans over hundreds of years ago.
The dedicated staff is also on hand to explain each piece's history and significance while visitors get an up-close look at these beautiful works of art.
Sumida Park
Sumida Park is a popular spot for locals and tourists alike in Tokyo.
Not only does it offer great views of the Skytree, but it's also home to many unique cultural attractions.
At Sumida Park, you can experience traditional Japanese festivals such as Sanja-Matsuri with its performances by shrine priests or stroll through garish display booths filled with food and goods from all over Japan during Tanabata Festival.
You can even see some amazing cherry blossoms during springtime when hundreds of sakura trees are lit up at night creating an incredible sight.
Sumida River Cruise
Sumida River Cruises are a great way to explore Tokyo.
Float along the river and you can take in many of the city's famous sights, such as Skytree towering above on one side, while ancient temples line up against modern skyscrapers on the other.
On these cruises, you'll learn all about how this area has been an important transportation hub for centuries, with boats loaded with goods traveling from one end of town to another.
You may even catch glimpses of traditional entertainment like musicians playing shamisen or kyogen actors performing classic plays – it's definitely worth taking a cruise down the Sumida River.
Asahi Beer Tower
Asahi Beer Tower is a combination of both modern design and traditional beer brewing technology.
The tower stands twelve stories high, making it one of the tallest structures in its area.
Its sleek stainless steel exterior reflects light during the day while glowing with neon at night.
Every floor contains something different – from developing new recipes to hosting tasting events for visitors.
As an added perk, you can also take your favorite concoction home as unique gifts or souvenirs available exclusively at the Beer Tower.
With such innovative architecture and timeless craftsmanship, this building truly embodies Japan's proud history of beer culture.
Kimono Experience In Asakusa
The Kimono experience in Asakusa is an unforgettable journey into Tokyo's traditional culture.
You can choose from a variety of stylish kimonos, pose for pictures with the majestic Sensoji Temple as your backdrop and learn about Japan's national dress through interactive sessions.
Make sure to try out their new Obi (kimono belt) styling workshop or take part in spirited tea ceremonies held by expert artisans.
With English-speaking staff available during your time at Kimono Experience, Asakusa offers a fun way to get some unique photos and indelible memories while exploring one of Tokyo's oldest neighborhoods.
Matcha Gelato at Suzukien Asakusa
Suzukien Asakusa is renowned for its Matcha Gelato.
This creamy and smooth treat fuses green tea with a touch of Italian process and truly melts in your mouth.
The key ingredient comes from the Uji Tawara Tea Plantation where high-quality leaves are harvested to create an intense flavor that accentuates any Japanese dish it's served alongside.
Asakusa Denboin-Dori
Asakusa Denboin-Dori is a highly celebrated shopping arcade in Tokyo.
It's located close to the famous Asakusa Sensoji Temple and offers visitors an array of delicious food, souvenirs from Japan, setsubans (traditional home decorations) as well as clothing stores, and more.
There are many unique shops such as Kamon Kobo where you can get traditional Japanese kimono fabrics, Minoya which sells cool t-shirts with funny animal designs or even Fukuya Umeyashiki which has been around since 1899 selling snacks like ningyo yaki (shaped cakes).
After visiting the temple why not take a stroll down this charming street – it's always buzzing with locals stopping for lunch at one of its cozy restaurants or searching for bargains on its lively stalls.
Ride a Rickshaw Around Asakusa
Experience the beauty of Asakusa in a unique way, by riding around town on a rickshaw.
Get ready for your guided tour from Kaminarimon Gate to Sensoji Shrine.
Along the ride, you'll get some interesting facts about local landmarks such as Sumida Park and Skytree Tower.
A few stops will be made so that you can take pictures or even buy souvenirs at shops like Nakamise Street before resuming your peaceful journey with your Rickshaw-san (driver).
Enjoy this special experience while immersing yourself in Japan's culture and having fun taking photos – it's truly an unforgettable adventure waiting to happen.
Asakusa Nishi-sandō Shopping Street
Asakusa Nishi-sandō Shopping Street is a vibrant shopping area full of unique Japanese culture.
Along the street, you can find many traditional items like Kokeshi dolls and yukata (Japanese kimonos).
There are also lots of shops that specialize in delicious food such as freshly made taiyaki, mochi ice cream or even soba noodles.
With its cozy atmosphere and friendly shop owners, it's easy to get lost exploring all there is to see on this charming strip.
And when your feet start getting tired after strolling for hours? Then grab a seat at one of the cute cafes along the way – perfect for an afternoon tea break before heading home with exciting new souvenirs from Asakusa Nishi-sandō Shopping Street.
Konica Minolta Planetarium TENKU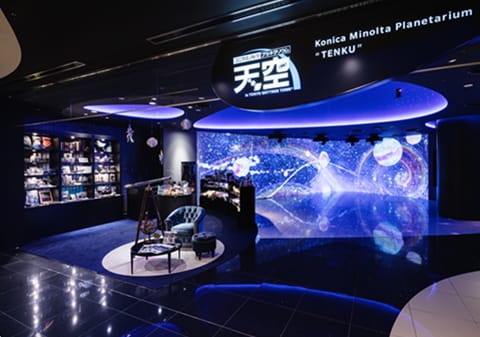 Konica Minolta Planetarium TENKU is a state-of-the-art, digital planetarium.
It brings the stars to you with an ultra-bright dome and stunning 4D special effects that simulate movement in our solar system.
The immersive sky shows transport viewers from Earth and beyond – enjoy realistic views of star clusters, the Milky Way galaxy or even a walk through the space shuttle's cargo bay.
In addition to engaging presentations on astronomy topics like astrobiology, moon phases & eclipses there are also fun intergalactic adventures for kids such as 'Space Pirate's Journey Through Time.' Konica Minolta Planetarium TENKU takes visitors of all ages on extraordinary voyages among celestial wonders.
Your Trip To Asakusa
Asakusa is the perfect destination for visitors looking to experience traditional Japan. With its stunning Buddhist temples, special festivals, and amazing food vendors, Asakusa truly has something for everyone.
From immersive cultural experiences to shopping in lively markets, there's no shortage of things to do here – making it one of Tokyo's most popular districts! Whether you're a first-time visitor or an experienced traveler seeking adventure, Asakusa won't fail to amaze you with its charm and authentic atmosphere.