Tokyo Go-Kart Tour: Best Options, Prices & How To Book
Tokyo is an exciting city full of attractions and activities, but one activity that stands out, in particular, is the Tokyo Go Kart Tour. This unique experience allows visitors to explore this vibrant metropolis while zipping around town on a go-kart.
Key Take Aways
There are currently 2 Tokyo Go-kart tours running. The Shinjuku & Shubiya Tour and the Akihabara Tour
These sell out really quickly so make sure to book early
You can book the Shinjuku & Shibuya Tour here (there's a heap of cool photos to see)
Or book the Akihabara Tour here on Viator
You can cancel for free up to a week before booking
Costs range from 7,200 yen to 20,000
You can't dress up as Mario anymore (legal issues) but there are plenty of other cool costumes
The tour guides are knowledgeable about all things related to Tokyo culture and can provide fascinating insights into the history of certain locations as you drive by them at top speeds.
From driving through bustling Roppongi district streets with its neon lights during nighttime tours, or cruising past iconic landmarks like Shibuya Crossing during daytime excursions – whichever route you take will be sure to have plenty of thrills along the way.
Shibuya & Shinjuku Tour Or Akahabara Tour: Which To Choose?
Currently, in Tokyo, there are 2 main Go Kart tours running and bookable online. The Shinjuku Tour (that also covers Sibuya) and the Akihabara, Tokyo's Anime, and Otaku Mecca.
Both tours are a heap of fun and have extremely high satisfaction rankings and great customer reviews. In this guid,e we'll help you choose which Tokyo Go-Kart Tour in the best for you.
Shinjuku & Shibuya Go Kart
The Go-kart Shinjuku and Shibuya tour in Tokyo is a unique experience that gives visitors an opportunity to dress up in costumes while driving around the city. Visitors can choose from different types of costume packages depending on their preferences – ranging from classic Japanese samurai outfits to modern streetwear and more.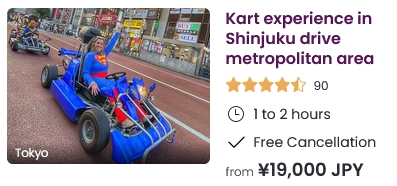 >> Reserve your spot for this Tour (and check out more reviews and photos)
The costumes come complete with accessories such as goggles, hats and racing gloves which make it easy to get into character quickly so they can start exploring the streets of Japan's capital city right away.
Another great thing about the Shinjuku tour, participants will be able to take photos at famous landmarks around town or even strike poses next to go-karts during pit stops along the way. It's sure to be an unforgettable experience no matter what outfit you decide upon.
Shinjuku Go Kart key Points
Passes by iconic attractions such as the Shibuya Crossing & Shinjuku Golden Gai
Enjoy a go-kart tour of Shinjuku in the metropolitan area of Shibuya City, Japan
Wear a cartoon character costume for a fun and quirky experience
Choose between shorter (one hour) or longer (two hours) routes
Private tours customizable to suit your needs with guide accompaniment
Free cancellations up to 24 hrs before departure.
Must show a valid international driving license on the day of the tour
Photos were taken throughout and provided for free after completion
81 reviews with 4/5 star rating from TripAdvisor & Viator
Shinjuku Go-Kart: What To Expect?
There's nothing like experiencing the unique and exciting go-kart tour of Shinjuku and Shibuya in Tokyo. With shorter (one-hour) or longer two-hour routes available, you can customize this private tour to suit your needs.
Put on a cartoon character costume for an extra memorable ride while passing by famous landmarks such as Shibuya Crossing and Shinjuku Golden Gai. Afterward, photos of your experience will be provided at no additional cost.
To join make sure you have a valid driver's license with Japanese translation if issued from certain countries before showing it upon booking approval.
Shinjuku Go Kart Reviews
Karting in Shinjuku is an absolute must-have experience. Located 30 minutes train ride from downtown Tokyo, the Monkey Karts crew provided exceptional service throughout.
The 5 p.m. slot was perfect for night lights and to feel like a celebrity with people taking pictures of us on the go-karts. Before we set off our owner gave a detailed safety briefing which made sure everyone felt safe while they were having loads of fun.
Adding more warmth during cold nights was greatly appreciated as it allowed us to make use of costumes and lockers that are available at no extra cost.
Also, tour guides provide amazing information about each area along with capturing memories through photographs making time fly by within 1 or 2 hours – just enough time before feeling exhausted yet satisfied upon completion.
Our team members were friendly all the way and even though rainy weather can be tricky to navigate around – The guide ensured easy follow-up without getting lost anywhere ensuring a fantastic way for exploring the beautiful city of Tokyo landscape.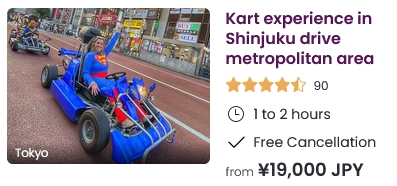 >> Reserve your spot for this Tour (and check out more reviews and photos)
Akihabara Go Kart Tour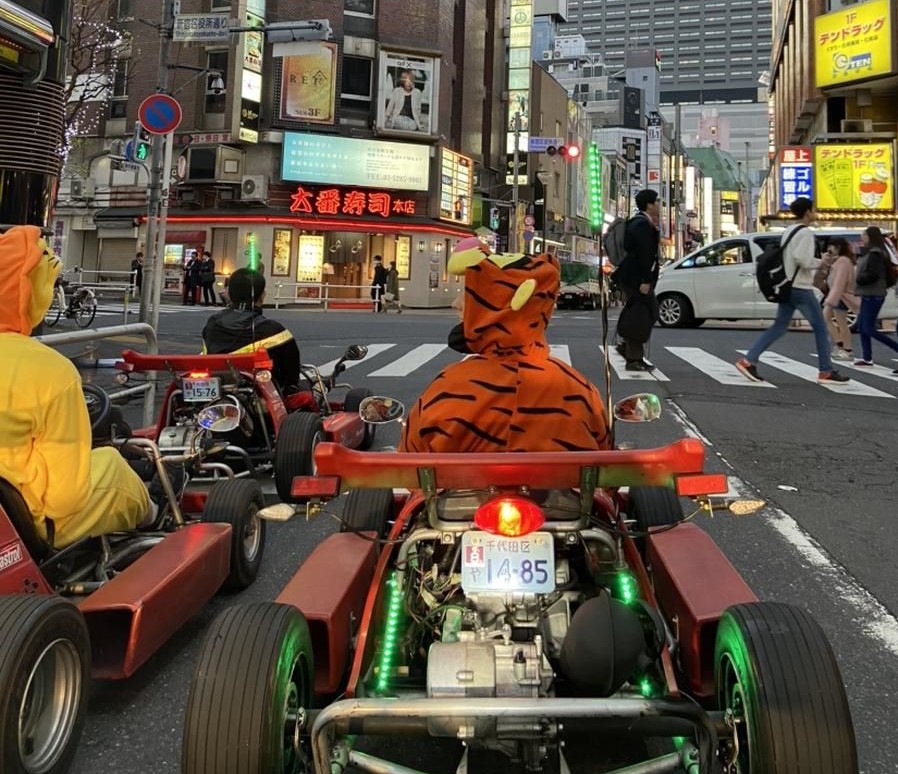 The other option is the Akahabura Go-kart Tour.
The Akihabara Go Kart Experience is a unique tour of Tokyo's vibrant and bustling Akihabara district.
You will dress up in costume for a fun-filled Go-Karts Akihabara tour. This is one of the most unique and exciting tours Tokyo has to offer. With that said, you also must come prepared with your valid license.
Akihabara Go Kart Key Points
Insurance fee included in the go-kart rental package
Local guide and safety briefing provided before driving on the road
The meeting point is a 5-minute walk from Akihabara station 5.
A Japanese driver's license or international permit is required for rent karts
Good weather conditions are mandatory for this activity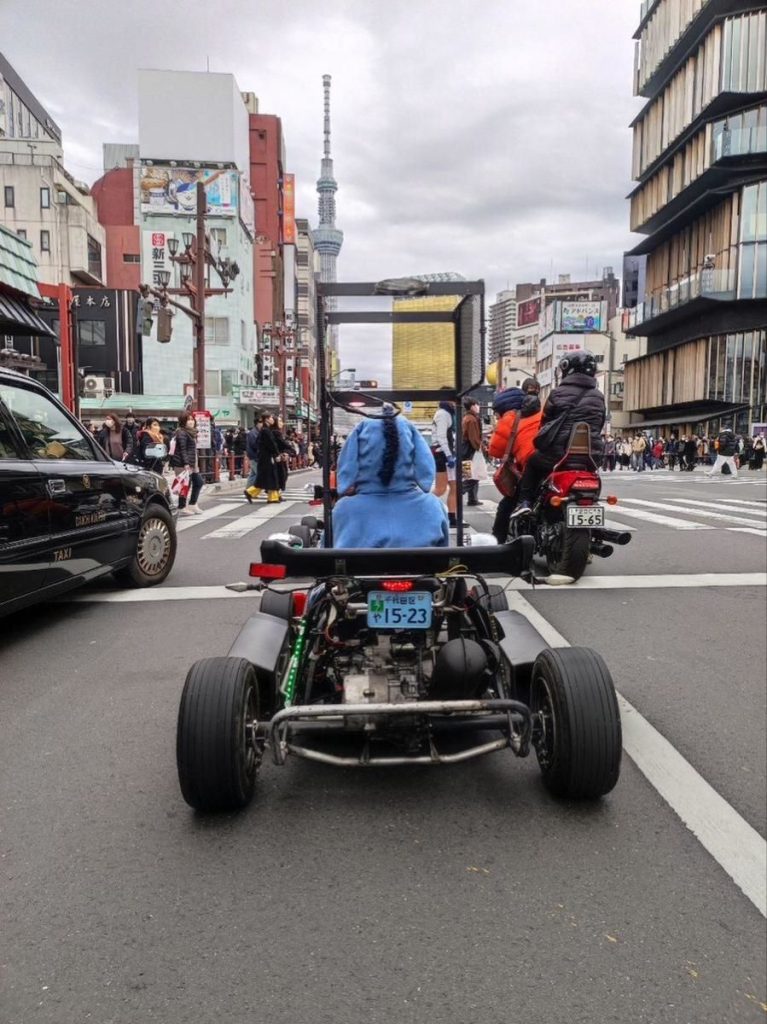 Whether it be Sailor Moon or Mario Kart inspired, there's sure to be something that will make you stand out from the crowd. Don't forget some extra accessories such as hats and wigs and even an "I've come to clean the pool" type mustache if needed too – these are always a hit with the local Japanese clamoring to take photos of you.
There's no better way than dress up in costume and ride around in a cart when exploring  Akihabara so don't miss out on this incredible opportunity today.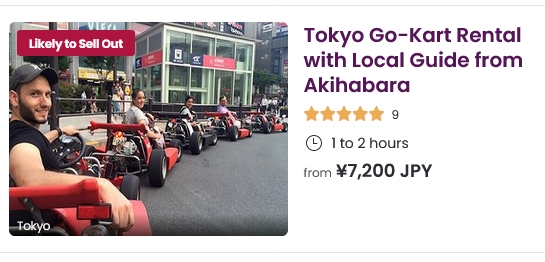 >> Reserve your Kart For the Akihabara Tour (and check out more photos and reviews) at Viator
What's Included?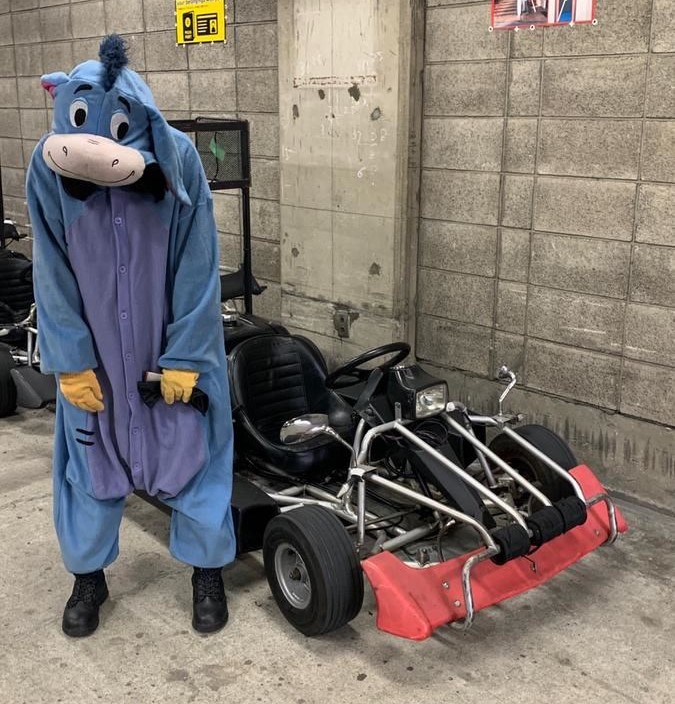 Get ready for an unforgettable experience as you take on some of Tokyo's top attractions in your very own go-kart. This comprehensive package includes rental for whatever duration you select, insurance fees, and local guide services complete with a safety briefing before hitting the streets lined with neon lights and people dressed up like their favorite manga characters. Hotel pickup/drop-offs are available at the meeting point located at Building Sasage B1F 2-4-6 Sotokanda Chiyoda-ku, Japan, just 5 minutes from Akhibahara station.
A mandatory 10-minute lecture regarding safety issues is included prior to going out onto the roads. For those who book 48 hours or more in advance, subject to availability, confirmation is guaranteed. However, please note that this activity is not wheelchair accessible, and high heels are not recommended when driving around town.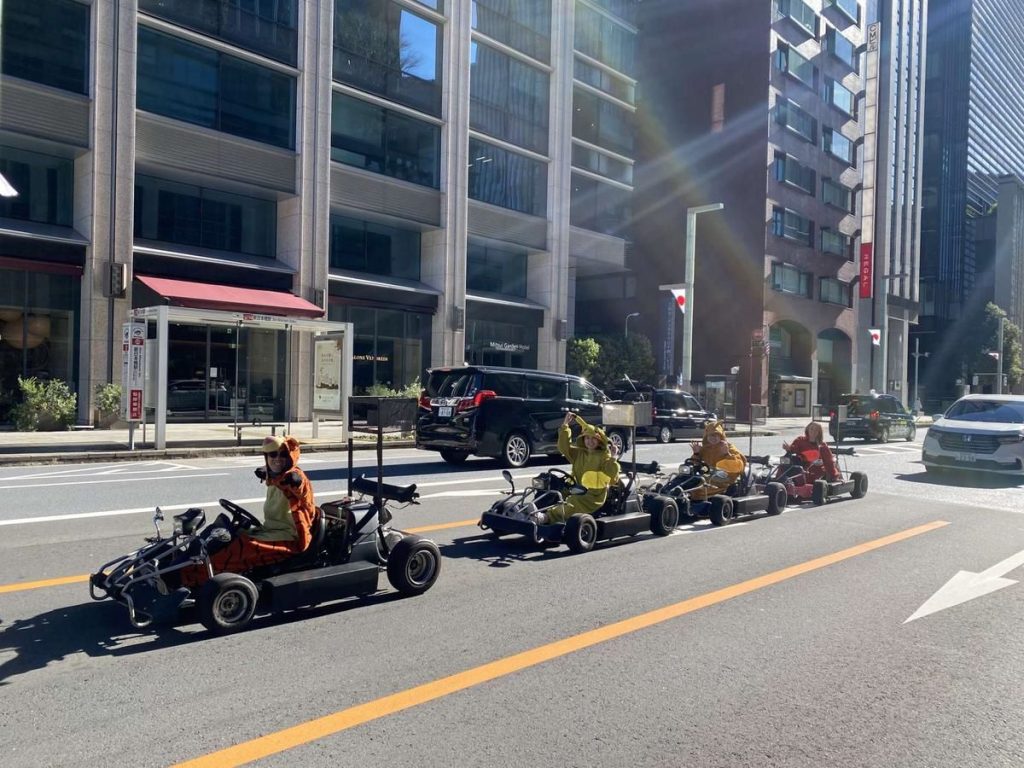 Cancellation policies apply: a full refund is available 7 days ahead, a 50% refund for cancellations 3-6 days ahead, and no refunds within 2 days due to weather conditions. Plan accordingly as good weather is necessary for safe driving.
With a 4.9 out of 5-star rating on Trip Advisor, this alternative sightseeing excursion through one of Tokyo's hottest districts is a must-try activity. Join the tour and experience a unique way of exploring the city.
How To Book A Go Kart Tour In Tokyo?
It's easy to book through Viator (owned by trip Advisor), and they have great cancelation policies so bet in early.
>> Reserve your spot for the Shinjuku Tour (and check out more reviews and photos)
>> Reserve your Kart For the Akihabara Tour (and check out more photos and reviews) at Viator